Our very own Laura Shaw was selected to be featured in an Avon commercial, 'Beauty Your Way' last summer and she chronicles her experience of what it takes to create 60-seconds of great story-telling.
I guess before we get started, I should tell you how I became an "Avon lady" in the first place (we are called Avon Representatives now btw). Many years ago, I had a mental health breakdown following a mentally abusive relationship, which left me homeless and with the stark choice of picking myself up again and starting over, or just giving up. The latter was clearly not an option and that was when I came across the opportunity to work with Avon. I'm not trying to open this article in a dramatic fashion, just an honest one. In all my previous careers, they had always been corporate, or retail based 9-5 positions, and after what I had just been through, I just couldn't face going back to that. Avon offered me the freedom to work my own hours, choose my own way of working and the type of customers I would work with. I have always had an entrepreneurial spirit and felt I had never really given myself the opportunity to tap into that, until this had come along. It taught me how to represent myself, gave me marketing training, and how and where to engage people through social media for lead generation and sales. It was the educational start I needed, and I ran with it. It changed my outlook on life, helped build me up again and gave me the courage to take a bigger step in expanding my responsibilities and go for an interview with my partner's company (cue Evoke), where he had been the Digital Director for nearly a decade. The MD at Evoke gave me a chance and said she saw something in me and encouraged me to continue my work with Avon as well, as she understood the training tools that Avon was providing me would help with my work with Evoke and vice versa. I began to expand on my skills such as image editing, social media copywriting, photoshop and Final Cut – which only spurned on my desire for storytelling and gave me the ability to do it more effectively.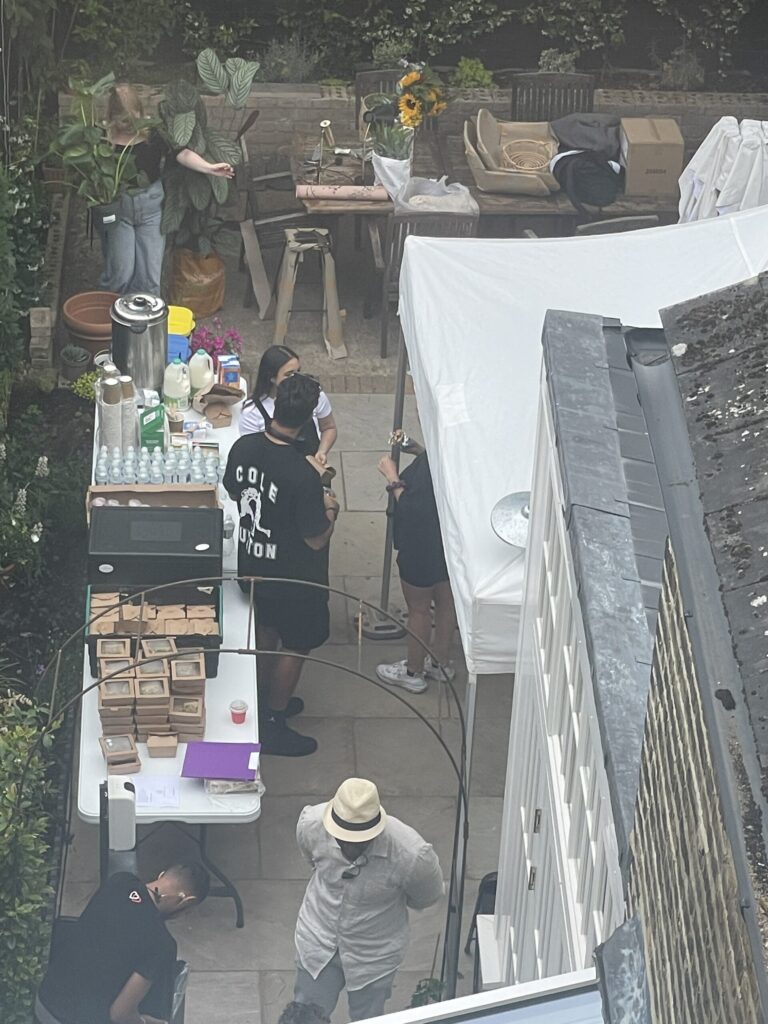 My first look behind the scenes of a production came during a national campaign Evoke was creating for a client and gave me the opportunity to work in multiple roles of website creator, second photographer and social media marketer. Up until that point I had never seen how all the functions came together and all the hours, effort, planning and passion it takes for a 60 second commercial and the supporting campaign pieces. But being a part of that process gave me the courage to enter an Avon competition to be a part of their new global ad. So, I submitted my video audition and to my shock WON! I had been a part of the 'Watch Me Now' Avon advert the year before, but this one was different – it was going to be a very in-depth mini-film by Ridley Scott Productions (yes, the very same Ridley Scott that directed Gladiator, Alien, American Gangster, Martian, etc…). Avon choose women for the commercial they believed were inspirational and represented the brand and what they stood for, and two other women, Annie Dolores Wainwright & Anneetah Adu were also selected. The process started with long interviews about our journeys and careers paths. It was then I realized this was going to be an experience like none other. I was nervous, scared, excited – not only to be a part of a major production but to get a first-hand account of what happens behind the scenes ON A FILM SET. It left me tingling with anticipation – it was a content creators dream. The stories and experiences I'm about to share with you just from this experience, are ones that not only gave me a new insight and a wealth of knowledge but ones that will continue to fuel my inspiration for years to come. And so it begins, the journey of what it takes to create a 60-second film, and the various lengths of short form content from that original piece.
PLANNING
From the moment I was picked, the planning began, and I was seriously not prepared for the immediate strict protocols and the tight secrecy/security around the production, especially regarding the shoot and filming dates. It started with calls and emails to determine who the extras were going to be. Avon wanted a diverse range of my friends to be in the advert with me, as the people around me really do amplify who I am, and they wanted it to be genuine and real.
Once the extras were selected, they each received their own itineraries, with details down to getting to the shoot and the return home, which involved taxis, trains, and even a few hotel stays for each of my three friends. But it didn't stop there, each person was asked for their sizes, photos, and lists of clothes they had to use for the shoot or have replicated by the stylist. To say there were lots of calls between the stylist and my friends was an understatement. By this time, I had also sent over Fifty photos and videos of my wardrobe and my typical 'everyday' styling. This ranged from dresses to joggers and heels to trainers, Once wardrobe had been sorted I then found myself on a zoom call with the hair stylist, to decide whether we would go with my colorful dreads or a more natural style – we ended up falling somewhere in-between with a 'Daenerys Targaryen' Game of Thrones vibe (I mean who doesn't want to feel like the Mother of Dragons for two days of filming!).
Beyond hair, makeup and wardrobe, the producers then wanted a full recording of my house, which since we had literally just moved into was a nightmare that involved full discussions on how we planned to decorate once I managed to get everything out of boxes. This led to a long list of items we would need to bring with us for the filming – photo frames of my daughter, posters, soft furnishings, a pillow with my face on it, and anything else that showed it was more me.
After a few weeks of all this planning and coordination, I was sent the final four-page brief for the film. It also included the full voice over script for the advert too, which I was excited about. The previous Avon advert the year before had required me to do a voice over as well, and I had since acquired a more professional recording set-up, so felt much more prepared for this one.
As part of the brief, I was asked what makes Avon, Avon for me, and outside of collaborations and innovation, it means involving my family. I often go skating with my daughter and partner Phil, and in the warmer months, we will walk around and deliver brochures together. Avon loved this and thought it would be great to include in the filming, but this meant we would now also have the skates and a long board with us down to London! So in the end the storyboard for the film was now me waking up in my bedroom, moving on to breakfast with my family, getting Elle, my daughter, ready to skate, skating and talking to customers in a park, heading over to my friends for a coffee, a short taxi journey, heading off to a skincare workshop and ending it with a photo shoot for the inspirational women. The storyboard also included three pages of images on how they wanted the people to look and how/why each outfit was picked. It included a narrative for each shot and how they wanted the story to unfold. I was to arrive at 8:30 am on the first day at the first location – the house in London. Finally, it was time to shoot.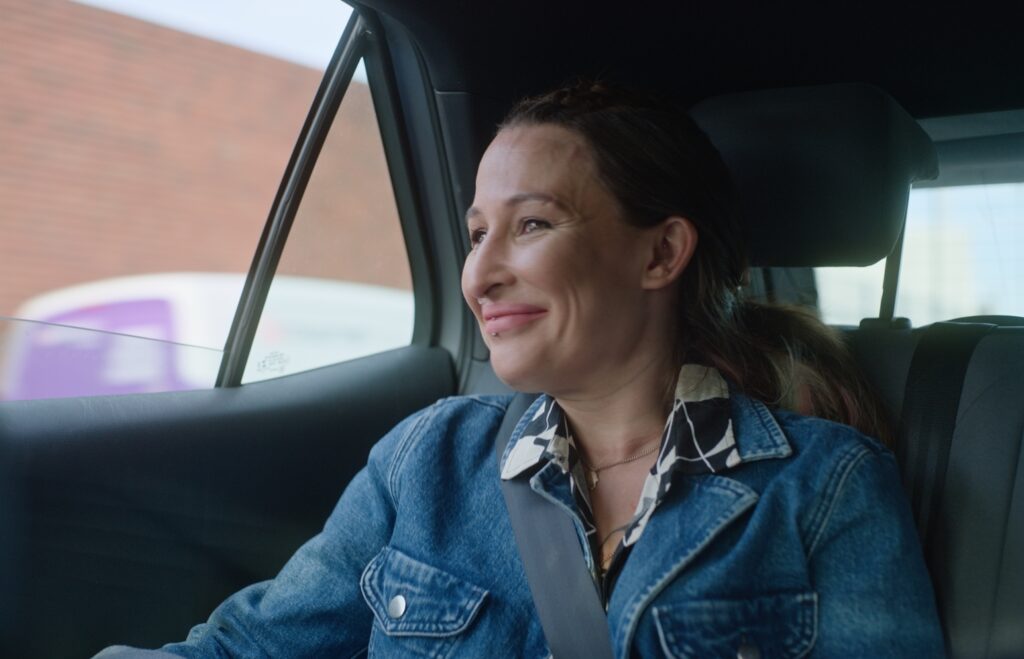 DAY ONE – ARRIVING
We arrived in a taxi they had waiting for us at the station. As we neared the location, we noticed the street was blocked off and as the taxi pulled over, a head suddenly appeared in the window and asked, "Are you the talent?', it took me a second to realize that he was talking to me and when I replied, "Are you waiting for someone named Laura?", he laughed and said yes and proceeded to usher me into one of the most beautifully decorated homes I'd ever been in.
Once upstairs the first thing that we had to do, was check the child worker contract for my daughter (since she was going to be part of the filming), which included a working hours agreement, giving them with the school's release and permission for her to miss the day of school (which they were happy to as a very cool learning experience for her), and agreeing that if she stayed on set longer than in the contract, it would not be to work but so Phil could 'parent' her while I finished shooting. Additionally, since she was one of the 'actors' in the film it meant that she was supplied with her very own bathroom, which she was thrilled about – I told her not to get used to it!
Then it was off to wardrobe for me, where I gave them all the items that we brought with us, so they could dress me and the location. Photo frames and furnishings were adapted and since the first portions of filming only involved me, they had set aside one of the bedrooms for Phil and Elle to relax in. As I walked into the rooms where we would be filming, there were cables winding up the three staircases of the four-story townhouse, and cameras and smoke machines in most of the rooms in the house. Out front were vans filled with equipment and the entire garden out back was filled with catering for everyone on set – it was a proper film set and overwhelming! Heading up to the top floor, the hairstylist was waiting for me, and he put me at ease straight away, went through the plan and then he started tackling my hair (halfway through the day he actually went out and purchased more hair for touchups and effect – I could get used to having this done every day if I'm honest).
I will admit that I was loving all the fussing and fluffing of hair and makeup, but it did feel like I was in the chair for hours as they tested everything to make sure that it would all hold up under the lights and the heat of the summer. Finally, I was sent back to wardrobe to change and while we were meant to have an hour for fittings, it turned into two sets of 15 minutes as the timings had gone slightly wrong. I was then diving in and out of two rails of clothes where we ended up with an outfit that I could glam up and down during the day to reflect what I was doing in the various scenes – which really did mirror my real life. Bonus – we got to keep one of the necklaces, a ring and Elle's entire outfit.
Bedroom & Bathroom scene
So, I should preface this part with the fact that I am not a morning person, even when trying to pretend to be one. The first scene was meant to show me waking up and getting out of bed. I could not 'pretend' to wake up without a stupid look on my face and 15 takes later, the scene ended up on the cutting room floor. Life imitating art.
Aside from my inability to 'wake up' properly, the rest of the day's shooting went smoothly. The next scene was the bathroom scene, where all the branded products that were not allowed to be shot were removed and then the filming began of me 'applying makeup'. Please let me tell you that 'pretending' to apply makeup is harder than actually applying it, especially when you've had a makeup team that's already gone over every inch of your face, and you're not meant to touch anything! Finally, lunch was called, and we went down to the most amazing catering spread in the back garden – I was blown by everything they had put on.
My friends and the extras for the park and cafe scene arrived just after lunch, and were busy getting ready with the hair, makeup, and wardrobe team, who were also diving in and out to give me touch up's as well. The filming location was buzzing with people everywhere with about 40 people in the crew for filming. It was mind boggling to be a part of and remind myself that all of this was just for a 60-seond commercial!
BREAKFAST SCENE
The breakfast scene had arrived, and I had been looking forward to this all day, for the surprising reason of seeing how all the lighting would be done for the scene. I had recently participated in a shoot for Evoke as a second photographer and I also live with Evoke's Digital Director (photographer extraordinaire), so I'm surrounded by lighting experts and it's an area that's always fascinated me. When we do shoots in Dubai, there is no shortage of sunshine and light, but inside a house in the UK, I was curious to see how it would be done. The kitchen was filled with lights to make it look as 'natural' as possible, with Phil and I in the middle of it all and told to act as we normally would over breakfast. Considering that the breakfast bar was filled with food and drink, it's not the spread we are used to, as I am just usually grunting at Phil as he shoves coffee under my nose in the morning while he's absorbed on his phone over a bowl of cereal, which I didn't think that would make for good filming! Luckily, I do go through the Avon catalogues in the morning, researching products over coffee and they filmed us looking at it together, and laughing as they told us not to drink the coffee because it was stone cold. A fact that really stopped mattering to me as the filming went on and I drank it anyway. We also had to be careful in what we were saying as we were told that some people may lip read what we were saying! Then Phil looks at the clock and starts packing a bag to go skating and cue Elle to run into the kitchen and high-fives Phil (she was originally meant to run in and hug me – but there is a standing joke in the family that she adores Phil more than anyone else in the family – including me!).
SKATING SCENE
Kitchen scene complete, we headed out into the great outdoors to the park for the skating scene. This was honestly my and Elle's favorite scene of the day. We were directed to sit on the bench at the bottom of the stairs after Elle runs down the stairs to get ready. We talk and have random conversation, were told to laugh, and smile, and occasionally I place my hand on Elle's shoulder whilst I'm doing up her skate laces. The cues were interesting – I was at the front room sofa, being told to fluff the pillows and tidy up whilst Elle was running down the stairs. I must admit tidying somewhere that is already tidy took all my newfound acting skills, but I fell right back into my childhood acting and nailed it.
At this point the crew and extras had to split up, some of the crew, my friends Georgie Dorsett, Jayne B. Walker, and Sonia Raymond Murray, went straight to a cafe in London to prepare the Cafe scene, whilst the rest of us jumped in a filming van to head over to the park where we had security to help with the area. It came time for Elle to put on her skates, me mine, and Phil his longboard. Production had purchased new skates for me, but unfortunately, they were so new I was unable to skate in them, so we reverted to my trusty quads. What you don't realize when filming, is that we had to skate slowly! That way the camera can speed up our movements where necessary. This was hard. Skating slow means a lot more room for tripping up as you don't lift your feet as much or as fast. The extras were placed on a bench and some cued to walk past. So, we just had to skate and act as we normally would at the park. All three of us set off whilst being directed – Phil stopped at the bench and sat there watching Elle and I, which gave me and Elle the usual time to have some fun and skate around the park. This was a very hot day, so there were a lot of pauses for water, and costume adjustments and touch-ups (post falls!). Elle was grabbing the brochure out my bag to show a few customers as they walked over to talk to me and then as we were wrapping up the park scene, it was a relief to be asked for an extra shot of me and Elle going as fast as we can and have some fun, which is exactly what we did right back to the van to head off to the next location.
CAFE SCENE
We then drove across London to the next location. I knew it was a cafe, but I wasn't sure what we were meant to be doing exactly. After parking up and ensuring I had my full costume with me after a change in the van, I walked into the cafe and immediately felt like I was at home. Not only was it so gorgeous inside with the quirky pictures and beautiful bone China tea sets, but I saw Georgie, Jayne and Sonia waiting for me. Huge hugs all around and we were ready to go. The assistant director (AD) told us we were meeting for a chat and a catch up, showing off our purchases, taking selfies and generally meeting up with friends. This was so natural to shoot as we all knew each other. It was fun to sit there chatting, however we did have to shoot me leaving a few times, as I couldn't nail the natural aspect of going. Normally I walk out with friends, or am a lot more boisterous, however it didn't feel natural being like that either – in the end we finally made it work.
Finally, the shoot wrapped for the day and Phil, and I headed back to the hotel and my friends, the train home to Milton Keynes. Before we left the set though, we had to ensure that phones, keys, money, and costumes were either returned or double-checked. I was told to make sure to come back in the outfit I had filmed in all day for the next day's filming. Once we arrived at the hotel we literally ran into Eric Roberts (yes, Julia Robert's brother) and I just thought, yes this is living the life of the rich and famous (or so I told myself – one can dream people!).
DAY 2 – INSPIRATIONAL WOMEN INTERVIEWS AND SKINCARE WORKSHOP.
The next morning, we had an early start for another full day of shooting. Phil and I jumped into the car that was waiting for us to take us to location at Loft Studios in London. This is where we would film the interviews with my incredible co-stars, Annie Dolores Wainwright & Anneetah Adu, as part of the Inspirational Women Series that was a part of the larger campaign we were shooting the commercial for. We again started off in hair, makeup and wardrobe with the team ensuring we not only looked amazing, but that everything I was wearing was exactly as it had been from the day before for continuity of filming. While we were all being prepped, Miroslava Marjanovic Pavlovic, Head of Global Marketing/Omnichannel Rep Experience for Avon walked in! To say it was a pleasure to meet Miro is an understatement. In a special conversation I had with Miro, I was surprised to she had specifically picked me for the film, and that the idea for the campaign was Miro's as well. Can you imagine meeting and working with people that have these ideas? As well as being told it was a pleasure to meet me, Miro gave us all a goodie bag of treats, which I still have, and am trying to figure out a clever way of displaying in my office.
The filming then began, and we started with scenes of the three of us talking about our Avon experiences, followed by a photo shoot of us having fun and being together, and then a lengthy interview with each of us individually.
The day was going well, and the Assistant Director (AD) had been looking after me all day, but my confidence (or lack thereof) was still holding me back. A first-time actor in a production of this magnitude was an exciting but nerve-wracking experience. On one hand, it's a chance to build my confidence, showcase my talent and open new doors, but on the other hand, the pressure to perform well in front of a camera and deliver the right message can be a daunting experience. The AD had such a positive attitude, knew exactly what to say to me and how to deal with my wobbles of confidence – it just put me at ease and made it an enjoyable experience in the end. An example of this is when they asked me about my tough times during the interview and I nearly started crying. I had never previously been able to talk about my experiences without feeling trauma well up inside me again. The AD saw this and quietly asked me to come over. After turning off my mic, he spoke to me and gave me breathing exercises. He checked I was okay to carry on and after five minutes of talking and breathing I was ready. I spoke about my ex-husband's battle with cancer (while we were married), being cyber bullied, being in a mentally abusive relationship and homeless after that as a result, and how opportunities I've been given have helped me build a new life with my uniquely bonded family.
During all of this, Phil, was dipping back and forth from working (I mean he still had to do things for Evoke!) in the green room next to hair and makeup and helping me get content for my own social media. We still had a full crew buzzing around us and this again showcases how much staffing and work goes into a production of this magnitude. The production team had to allow for health and safety for so many things, extra catering for Phil, a medic on stand-by for both days, security, runners making homemade iced lattes and on and on. It was eye-opening. Although, it made me really want to have runners in my everyday life – that really is the dream!
WORKSHOP & CAR FILMING
After saying good-bye to Annie and Annetah, we headed out for the last scenes of the day. But I really do have to take a minute to talk about the incredible extras that had been on set for both days – there is a lot of waiting around, a lot of direction and a million people all over the place on a production like this and they were all so great about it.
We headed to the studio where we were met by a fully dressed workshop table filled to the brim with Avon products! While we were waiting, they pumped loud music into the studio to pump us all up, which I must admit, was much needed by then as it had already been a long day. One of the hardest things for me to grasp was what to say throughout these two days of filming when I was 'fake talking', whether in the breakfast scene, skating, or 'talking' in general – it was difficult. So rather than continuing to 'fake talk' I just decided to use my knowledge of the Avon products and inadvertently started holding a proper skin care workshop. Some of the extras even started taking notes with my skin care advice! Finally, we wrapped filming for that scene and broke for a late lunch (which I was told to wear a bib for, just in case) and more ice lattes while more hair and makeup touch up's were done before we started on the next and last round of filming.
I had really been looking forward to the car scene the most. I am a huge car fanatic and have been passionate about them from a young age, plus I had always loved all the car scenes you always see in movie, and I was finally going to be in one! I had no idea that we were going to actually drive around in a car through London with a camera on the front seat and a camera in the car behind! Inevitably, not everything goes right when filming and the car that was hired broke down. We ended up using the broken-down car for the scenes of me getting in and out of the car and since it was dead, waiting in the car between takes was like sitting in an oven – it was so hot and not something you ever think about when you see these films. We actually ended up using one of the crews cars for the driving scenes, with the camera women in the front seat, the AD driving and the producer sat next to me. As we started driving, they wanted shots of me texting and then more natural shots, to which the producer and AD started making me laugh and talking to me so I would relax into it – so the laughter and smiles you see are genuine!
After twenty minutes of filming in the car, we headed back to the studio, where I was filmed walking into the doors to the Photoshoot and where I was to complete the last portion of the day.
VOICE OVER AND END.
I walked through the studio doors and that ended the filming experience! Just like that, weeks, and months of preparation (and that's just what I know about), was finished. I went back into wardrobe to return the borrowed items, where they very kindly gave us Elle's outfit and me the necklace and ring, I had been sporting for the last two-days. The AD then came in to say that we hadn't done the voice overs and brought me over to the recording area. After adapting some of the lines with the director to make them more 'me', even though Avon had done an incredible job getting my tone and 'Laura' into the script, a few words were tripping me up, so we swapped them out to sound more natural. Thirty minutes and several glasses of water later, it was all done.
We gathered our equipment, spoke to what was left of the production team, and headed home after the most daunting, exciting, and detailed project I have ever been involved in. The level of production, creative output and digital transformation that goes behind a 60-second video, or even the 'quick' social media posts for this campaign, may just leave a seconds worth of impression for everyone else, but the hundreds of hours spent by a crew of over sixty people and the entire team of global experts that helped develop it, has helped me gain a new sense of appreciation for this industry and the people in it, and it's a memory and experience I will truly cherish for the rest of my life.
The commercial is now being advertised globally on TV, billboards, buses and on the Avon representative websites, including the interviews and hundreds of photos and videos for representatives to share. The campaign also included me participating on a panel for British Beauty Week and the Beauty Council, as part of a movement to empower women through beauty – in all its forms.
Evoke International.